With all the turmoil going on in God's Holy Land, Zac Waller was inspired to write a song.  A music video is in the works!  Your donations help us create pro-Israel videos and songs like this.  Be encouraged and make a stand for Israel!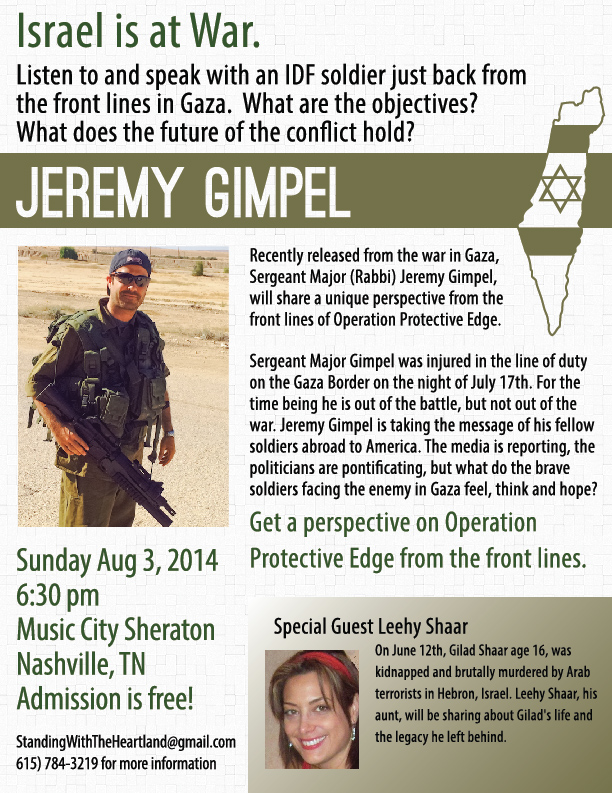 This is one event that you don't want to miss!
Spread the word!
Forward this email, call everyone you know and
Download 
THE FLYER
, print it and post it EVERYWHERE!!
More about Jeremy
Long time friend of HaYovel, and most recently, injured IDF soldier from the front lines of Gaza, Rabbi Jeremy Gimpel is coming to Nashville, 

Sunday, August 3rd

, to bring a first-hand report from the Land of Israel. 
Jeremy Gimpel is an educator, politician and presenter of Israel Inspired, a podcast that has had 12 million views on YouTube. He is also the Deputy Director of the World Mizrachi Movement. In 2013, Gimpel ran in the Israeli legislative election as the 14th member on the ticket of The Jewish Home. The party eventually won 12 seats and Gimpel missed out on being in the Knesset by 2 seats.
 After this, in October 2013, Gimpel was appointed as Deputy Director of the World Mizrachi Movement.
In 2011, Jeremy Gimpel along with Ari Abramowitz launched "

Tuesday

 Night in Jerusalem", a TV Show broadcast out of Israel for viewers in America.  
In addition to their Television and international speaking tours, Ari and Jeremy host the popular "Light unto the Nations" talk show on Israel National Radio. The program serves as a vehicle for Ari and Jeremy to share their lives in Israel, their perspectives on current events in the Middle East, and the spiritual insights they glean from their experiences on the forefront of Israeli media and activism.
More than ever, Israel needs Christians from around the world to stand with them. The greatest phenomenon happening today is before us as we see that the restoration of God's Kingdom to Israel has begun, and we are privileged to participate.
We would like to extend the invitation to you: partner with HaYovel as we are working in the Land of Israel to strengthen and build up Zion and take their message to the nations around the world. 
Lay the Tracks!
Click Here
 to become
actively involved
in the work that HaYovel is doing today!
Your contributions (of $30, $60, $100, or whatever God lays on your heart to give on a monthly basis) actively keep the HaYovel train moving forward, down the tracks.
Become a part of prophecy by strengthening the land and people of Israel. Become a monthly contributor today!

In the midst of turmoil happening in the land of Israel right now, the next episode in the Joshua and Caleb Report series is sure to bless you!
Erez Ben-Sadon is one of the most dedicated and encouraging men that we know, and is one of the vineyard owners that we are privileged to help every year. This episode is the first of two that will leave you strengthened and inspired.
If you'd love to have the opportunity to come to Israel and harvest Erez's grapes or olives, and visit his beautiful boutique winery, come to the harvest this year! The deadline is quickly approaching. ClICK HERE to request your application today!
Let us know what you think of the Joshua and Caleb Report series so far! We'd love to hear from you!
The Blue and White Shop - 
Udi Merioz

The story of Udi is one that is truly challenging and inspiring. He and his father and family sacrificed everything to be the very first Jewish people to move back into the Old City of Jerusalem in the exciting days after the 1967 liberation.
Udi is a good friend of ours and today has a beautiful art shop in the ancient Cardo in Jerusalem's Old City.
If you would like an opportunity to meet Udi in person, 
come to this year's harvest!
 Not only will you be able to put your hands and feet into the prophetic work happening there, you will also have a chance to connect to the land and people that live in Judea and Samaria.
The deadline to apply for this harvest is July 31st, so 
CLICK HERE
 to request your application today!