Hanukkah Article from Zac Waller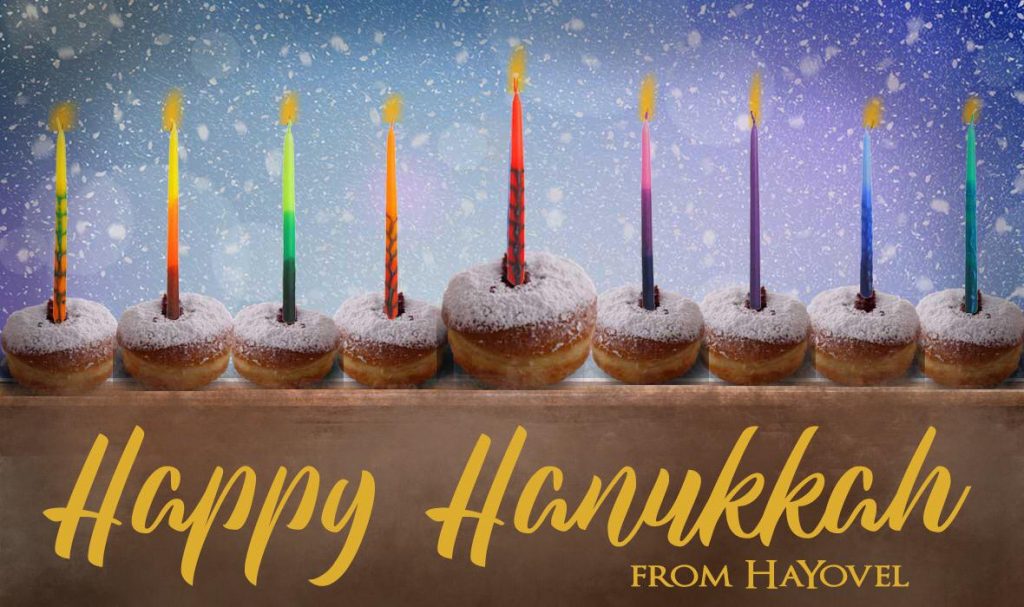 Happy festival of light and feast of dedication/Chanukah!
As you gather your family around the table these eight evenings and light your menorot, remember that God has also lit His menorah and has it in His window for you to see! Now, before you conclude that I've lost the top of my dreidel, allow me to explain.
Zechariah 2:8 says that Israel is the apple of God's eye. Later on in chapter 8, God declares that He is greatly fervently zealous for Zion. You can't get much more passionate than that! King David, a man after God's own heart, says, "If I forget you, oh, Jerusalem, let my right hand forget its strength; if I do not remember you let my tongue cling to the roof of my mouth, if I prefer not Jerusalem above my chief joy!"
Wait a second. Above my chief joy? What is my chief joy? What is your chief joy? God is greatly fervently zealous for Zion? What about all the other countries that God created? Isn't favoritism wrong? Doesn't God care about all nations and tongues? What is going on here?
Let's take a little journey back in time, back to the very beginning, the book of Genesis.
You know the story well. God created a beautiful universe and placed man on earth to take care of the garden and to have fellowship with Him. Man sinned against God and could no longer dwell in His presence so Adam and Eve were distanced from God — removed from the garden. God desired reconciliation. During pre-flood times the people's wickedness grew so great that worldly pleasures replaced all desire to know and be with God.
Abraham rekindled the lost desire, initiating a movement with a mission to reconcile the relationship between God and man. This was no small task! Abraham was the only one in the entire world with faith in God. He had not seen the Red Sea part, God descending on Mt. Sinai or any great miracle. He simply believed and obeyed. Step number one in this new found ministry of reconciliation? "Go to a land that I will show you"! Somehow, from the very beginning, the physical location of the land of Israel was a critical piece of the journey back to the garden.
The second part of Abraham's commission was, "Through you all the families of the earth shall be blessed." Right from the very beginning God revealed His goal: redemption for the world.
The children of Israel went down into Egypt. Israel experienced a mighty and miraculous deliverance from Pharaoh and saw the utter destruction of one of the greatest world powers history had ever known. Despite having conquered the land of Egypt, renowned for its abundant water source and fertile lands, the people of Israel left it all behind, knowing that their connection to the Land of Israel was a crucial piece of God's master plan of redemption for the world.
From there, the journey had many ups and downs. As the word of the Lord came through the Prophets, ministering rebuke and edification to the people, they also confirmed the global goals of God's master plan. God's light in the land and people of Israel was to shine into the nations! God chose the land and people of Israel to be His menorah! They were to shine His light to all nations and peoples, inviting them to come and reconcile themselves to God.
Isaiah 62 says, "For Zion's sake I will not keep silent, and for Jerusalem's sake I will not be quiet, until her righteousness goes forth as brightness, and her salvation as a burning torch."
Definitely some menorah-like verbiage here! Righteousness going forth out of Zion . . . that reminds me of Micah 4. It prophesies that many nations will come up to the Temple on Mt. Zion and the word of the Lord will come forth from His house!
God's great fervency and zeal for Zion and King David's joy in Jerusalem are not because Israel is better or more special than any other place. This literal, physical location is the theater for redemption to be revealed, the menorah of salvation shining out to the entire world.
The nations are being reached. Israel is being restored. We are on the brink of the final redemption. Do not miss the hour of visitation! It's time to join God in fulfilling His master plan. The redemption process has never been so clear. It's time to recognize God's menorah that has been kindled and is shining out from the place that He has chosen!
This year, as you and God keep your menorahs lit, don't be afraid to also join God in being greatly fervently zealous for Zion,
Zac Waller