Is It Brash to Say We Are Walking Out the Words of the Prophets?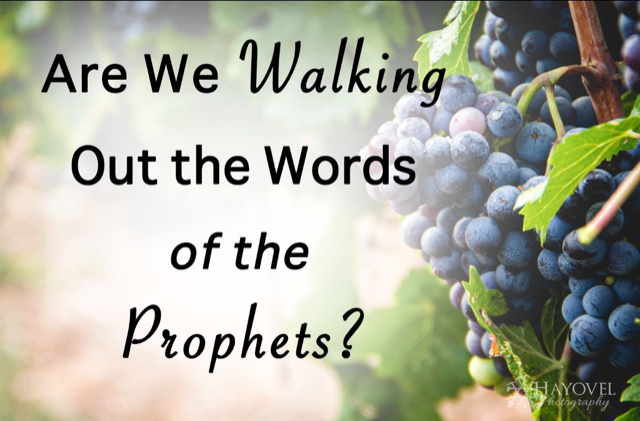 Maybe it was the journey God had me on in 2004 that initiated such a stirring when Nir, an Orthodox Jewish vineyard owner, spoke the words of the Prophet Jeremiah, "Again …".
Let's pause there for a minute.
I am thankful for the path God has led me on to get to this place, and I am looking forward to the destination(s) ahead. If you have been around anyone from HaYovel, you likely heard them say, "We are literally walking out the words of the prophets."
Oh my!
>>Give now before our deadline on December 31st, 2019
Can someone, a Christian, be so brash, so arrogant to say that they are "walking out the words of the prophets"? Nir had no reservation in making such a statement. It was his confidence, his faith, that awakened me to understand Paul when he said that the promises of God are irrevocable (Romans 11:29 & Galatians 3:15,17). In an even more mysterious statement, he said, "God preached the Gospel to Abraham beforehand, saying, 'In you, all the nations of the earth shall be blessed"' (Galatians 3:8).
There are some extreme replacement theology denominations who believe that the "Old" Testament, including the Psalms and Prophets, were done away with when Jesus died and was resurrected. Most Christian denominations, however, will agree that Jeremiah 31 is an important chapter because it refers to the "New Covenant" and is mentioned in the New Testament in Hebrews 8:8-12. By the way, it is interesting that the writers of the New Testament used the "Old Testament" to validate their writings, but Christians use the "New Testament" to discredit the "Old Testament."
I believe most people outside of our faith would say this is odd – don't you think?
"Behold, the days are coming, says the LORD, when I will make a New Covenant with the house of Israel and with the house of Judah—not according to the covenant that I made with their fathers in the day that I took them by the hand to lead them out of the land of Egypt, My covenant which they broke, though I was a husband to them, says the LORD. But this is the covenant that I will make with the house of Israel after those days, says the LORD: I will put My law in their minds, and write it on their hearts, and I will be their God, and they shall be My people. No more shall every man teach his neighbor, and every man his brother, saying, 'Know the LORD,' for they all shall know Me, from the least of them to the greatest of them, says the LORD. For I will forgive their iniquity, and their sin, I will remember no more" 
(Jeremiah 31:31-34 NKJV).
In my last article, Has Santa taken a serious role in the Trans-Fat identity movement, we walked through what led up to the "outpouring of the Holy Spirit" in Joel 2:28 and Acts 2-5.
Let's do the same with Jeremiah 31 since, again, it is validated in Hebrews 8:8-12. And since the writer of Hebrews defines the "New Covenant" through Jeremiah 31:31-42 I am going out on a limb here to say that the writer of Hebrews would also believe that all of chapter 31 was credible. To go further out on this same limb I would say that he believed the Prophet Jeremiah himself was credible.
Now that we believe that Jeremiah is a trustworthy prophet, we will start where we left off above with "again." We know Jeremiah is in the process of leaving or has already left Israel to live in Babylon. So "again" would indicate a prophetic promise to one day see or experience something again.
Jeremiah 31
Because I love you with an everlasting love …again I will and you shall:
Verse 4: Rebuild Israel
Verse 5: Plant vines on the mountains of Samaria
Verse 6: Cry for Zion, the place where God dwells (let's assume Zion is a real place in Jerusalem as it was in Jeremiah's day)
Verse 8-14: Regather the descendants of Israel
Verse 28: Restore the land
Please do not be offended by what I'm about to say. It has not been easy to make the "HaYovel" presentation to a church who, for the most part, does not identify with most of what I've written in this article or believe in the physical reality of prophecy concerning Israel.
As with any initiative, whether it is a business or a non-profit, there must be a capital investment. With a business, you may invest by purchasing a product or service. With a non-profit, you invest because you believe in the cause. With HaYovel, we offer several ways to invest. The three primary ways are prayer, feet, and donations.
We have 2 days left to reach our end of year fundraising goal. >>>Give now for 4X the impact.
I appreciate the investment that so many of you have sown into HaYovel. Many of you believe as I do that God is moving and are extremely excited about it.
We have generous donors who came on board before this campaign began to motivate others to get involved by allowing us to offer a matching fundraiser that will allow your donation to be multiplied 4X. We will not have another opportunity like this in the near future.
As of this writing, we have 91 investors in the only Christian organization giving 100% support to Jeremiah's prophetic vision. Notzrim in Hebrew means watchmen. Notzrim in modern Hebrew also means Christians. Jeremiah 31:6 is prophesying that there will be a day when the watchmen or Christians will cry on Mount Ephraim.
Time is short. At midnight, on December 31st, we must reach our goal in our end of year fundraising campaign. Please consider making your most generous donation now.
>>Give now, and make 4X the impact.
That day has come. I believe Jeremiah's New Covenant Messianic Kingdom is just ahead.
As God is moving, the Watchmen must take their positions.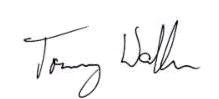 Tommy Waller
Founder & President, HaYovel